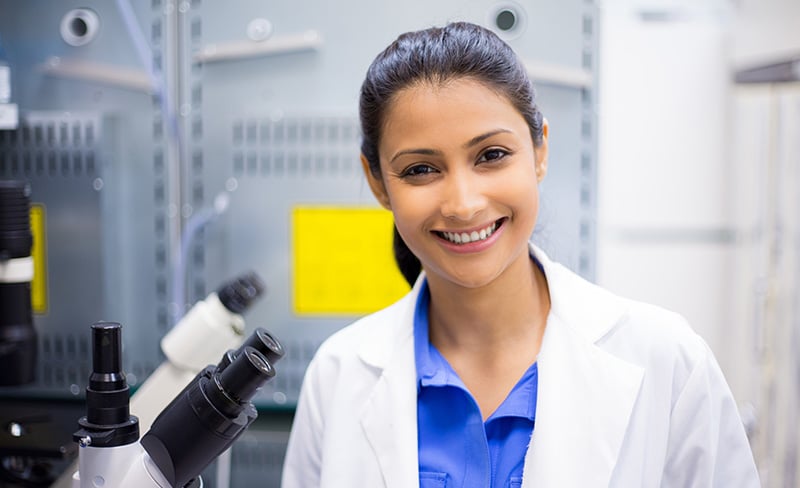 Clinical trials are research studies that help doctors find new treatments, improve existing treatments, and increase the quality of life for people with cancer. Sometimes the term "clinical trial" may make patients concerned the treatment is less safe or less effective than treatments currently available. Institutional review boards carefully review each study to ensure it is safe, comparable in effectiveness to standard treatments, and designed to yield important information.
You may be able to benefit from the treatments offered in a clinical trial if you meet certain criteria. Your decision to begin and continue with treatment on a clinical trial is always voluntary. The research team at Virginia Oncology Associates is dedicated to working with your cancer care team to see if you are a good fit for certain trials.
Types of Clinical Trials for Cancer Treatment
There are generally four types of clinical trials. Most trials available at Virginia Oncology Associates are treatment trials.
Treatment trials -

typically available for patients already diagnosed with cancer. These trials examine new treatments or new ways of using existing treatments. New drugs or drug combinations, new surgeries or radiation therapies, or a combination of treatments may be included in these trials.

Prevention trials -

study healthy people with no cancer diagnosis. The participants may be cancer free but are at high risk for developing cancer. They may either take something or do something to test its effectiveness for cancer prevention.

Screening trials -

examine new screening methods and measure the effectiveness of early detection.

Quality-of-Life/Supportive Care/Palliative Care Trials -

look at ways to improve the side effects of treatment, and a patient's overall quality of life.
In addition to treatment approaches and benefits, a trial may look at side effects or preventative results. Discuss with your cancer care team which type of trial you can qualify for and what is involved.
Who is Eligible to Participate in Clinical Research Trials?
There is a general belief by some that clinical trials are given only when other treatments have failed. While a clinical trial is often not the first course of treatment for a patient, there are times when it is. Every trial is different, and the criteria used to select patients are carefully selected to help ensure that trials are safe and effective. Eligibility requirements may include criteria such as your diagnosis, prior treatments, stage of cancer and your overall health status. Because each trial is different, your cancer care team will go over the eligibility details carefully before suggesting it as a treatment option for you.
What to Ask Before Giving Consent to Participate
Before starting a clinical trial, you will be asked to sign a document that says you understand the trial and you give permission to participate. This document is called an informed consent and is required before participating in a cancer research trial. Typically, you will talk with a cancer research specialist in your oncologist's office. They help patients find clinical trials that provide access to some of the latest cancer treatment options available today. This person is there to answer all the questions you have. They will explain what the trial is studying, how it is different from standard treatments available, how long it will last and how your cancer treatment process will change if you choose to participate.
You will likely have many questions. Make a list of questions to ask your doctor, such as:
What is the goal of this trial? How will my taking part in this trial help me now?

Are there any known side effects of the treatment that is being studied, and if so, what are they?

What kind of testing has already been done on the drug(s) being used?

Is this covered by my insurance or is treatment funded by the trial? Is there any out of pocket expense for the me, the patient?

Does a caregiver need to be given instructions?

By when do I need to decide about my participation?

How will this change my current treatment regimen? Logistically, will I have to go somewhere other than where I currently go for treatment?

How long will the trial last?

What if I start the trial but decide to quit?

Will I be monitored after the initial trial period?

Is there going to be a placebo?

Are there additional things I need to do? Do I have to keep special records or use special equipment?
Once you're satisfied with the answers, you will consent to participating in the trial by signing the informed consent form. It's always a good idea to speak with your caregiver or loved ones and see if they have additional questions before you sign the informed consent form. Consider bringing them with you to your appointment so they can also hear answers to these questions first-hand.
Read more in our Clinical Trial FAQs >
High-Quality Cancer Treatment During Clinical Trials
Though each clinical trial for cancer is different based on what is being studied, you will be in good hands, receiving some of the most advanced treatments available today. You may be asked to keep additional records in conjunction with your trial. Your trial may require monitoring after your treatment is finished.
Participating in Cancer Research for the Good of Others
The number one reason that people agree to participate in clinical trials is the opportunity to receive the most advanced treatments out there. However, a sense of altruism – doing something for the welfare of others – also plays a part in some patients' decisions. By participating in the clinical trial, future cancer patients can benefit from these new, more effective treatments.
Clinical Trials Available Throughout Virginia at VOA
The advances made in the standard of cancer care over the last several decades come as a result of years of research, testing, and clinical trials. Through clinical research studies, treatments, side effect management, and cancer detection have improved significantly. If you are interested in learning more about potentially participating in a cancer research trial, talk to your Virginia Oncology Associates cancer care team about options that may be available to you. Cancer clinical trials are available at our locations in Chesapeake, Hampton, Newport News, Norfolk, Virginia Beach, and Williamsburg, Virginia.