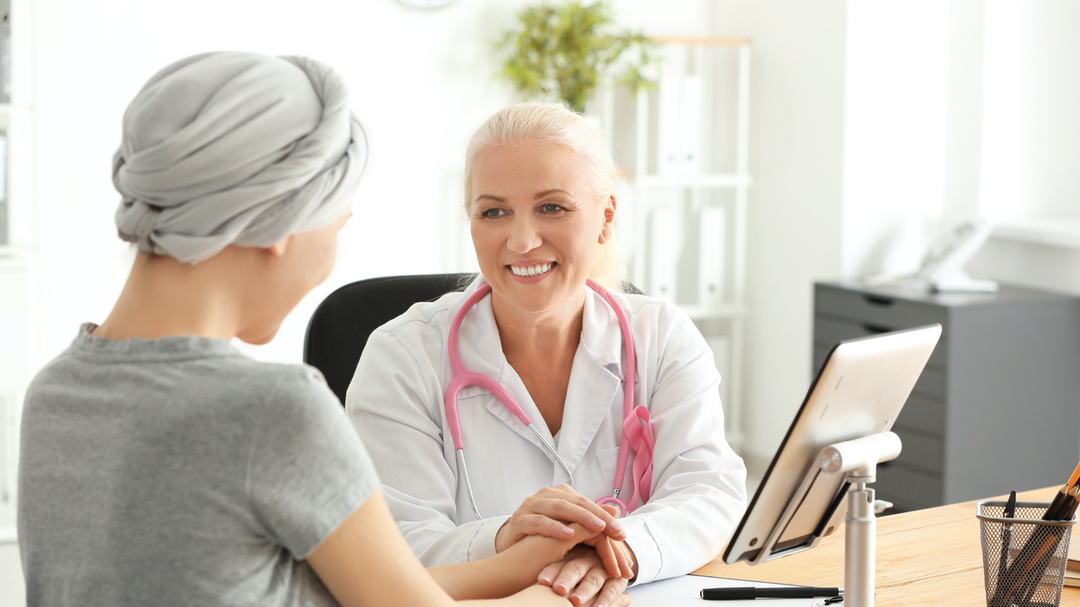 Until recently, breast cancer has remained largely in the background as immunotherapy has gained ground in treating many other types of cancer.
However, evidence now supports a combination of immunotherapy and chemotherapy as a first-line treatment for patients with metastatic triple-negative breast cancer (TNBC), an aggressive form of breast cancer.
Since this new standard of care gained Food and Drug Administration approval in 2019, it has transformed ever-evolving triple-negative breast cancer treatment protocols and offered hope to women with previously poor prognoses and quality of life challenges.
What is Triple-Negative Breast Cancer?
Ten to 20 percent of breast cancers are triple-negative, which means they are not fueled by estrogen, progesterone or excess amounts of the HER2 protein. These tumors generally do not respond well to either hormone therapy or medications that target HER2 protein receptors, and they tend to become resistant quickly to single-agent chemotherapy.
Triple-negative breast cancer often strikes patients younger than 50, with women who are Black, Hispanic or have a BRCA1 mutation at higher risk. In many cases, the diagnosis doesn't occur until the fast-growing cancer has spread beyond the breast, most commonly into the bones. In fact, some patients present with bone fractures or bone pain, especially in the hip, if tumors have infiltrated those areas.
Clinical Research and Its Role in New Triple-Negative Breast Cancer Treatment Options
An international, phase 3 clinical trial for breast cancer started in 2015 – called IMpassion130 – tested the effectiveness of adding regular infusions of an immunotherapy drug, atezolizumab, to the chemotherapy agent nab-paclitaxel.
The double-blind, randomized study of 902 patients found statistically significant improvements in progression-free survival in patients with unresectable locally advanced or metastatic TNBC, particularly in those who also are PD-L1-positive.
Atezolizumab, the immunotherapy drug, works to inhibit the PD-L1 protein, which essentially hides cancer cells from the immune system, to enable the activation of T cells. In that patient subset, median survival increased by 10 months compared to patients receiving only chemotherapy plus a placebo.
Additionally, the combined treatment boosted the objective response rate from 42.6 to 58.9 percent and the complete response rate from 1.1 percent to 10.3 percent. It also demonstrated more modest improvements in the remaining triple-negative breast cancer patients.
The dual therapy was generally well tolerated, with cholecystitis, pneumonitis and thyroid dysfunction as the most common side effects. Few patients had to leave the trial due to those or any additional complications.
Now that breast cancer has entered the immunotherapy era, breast cancer specialists are excited to help more patients with previously limited options. Patients with an advanced-stage of the disease who test positive for a BRCA1 or BRCA2 mutation also can receive PARP inhibitors, another relatively new treatment.
Future research is focused on finding biomarkers beyond PD-L1 to target, experimenting with different immunotherapy and chemotherapy partners, and studying the efficacy of immunotherapy in high-risk early TNBC.
Science is progressing quickly, thanks to cancer research, and breast cancer patients should be optimistic that many more advances will arrive in the near future. This shifting treatment landscape is a happy challenge for all oncology practices to embrace. Read more about how clinical trials for TNBC treatment are driving improved survival rates.