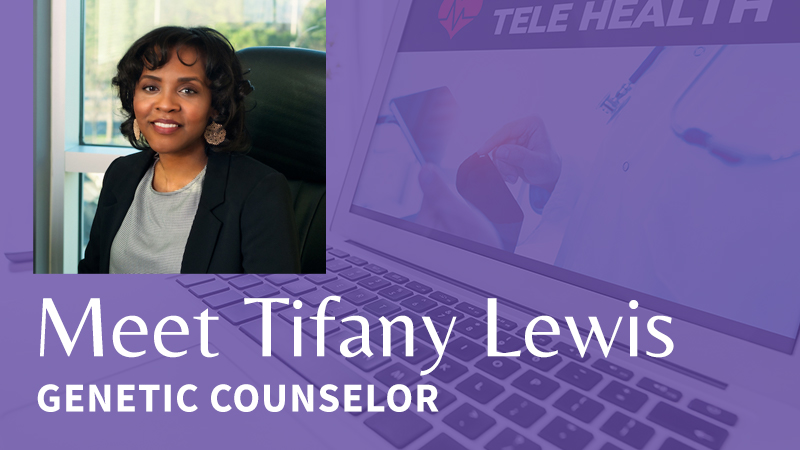 How does genetics contribute to diseases like cancer?
TL: Cancer is a genetic disease. We have approximately 20,000-25,000 genes in every cell of our body. Multiple genes are involved in regulating cell growth and repairing errors in our DNA. These genes typically protect us from developing cancer. Over time, we can acquire mutations (changes) in these genes leading to cancer development.
What is genetic counseling?
TL: Genetic counseling involves educating patients and their families on the genetic basis of diseases. It involves translating complex genetic terms into language easily digested and applied. Genetic counseling also involves providing emotional support to patients and their families as they navigate a new diagnosis and implement medical management recommendations.
Why did you get into genetic counseling and what was your training?
TL: I was a biology major at Virginia Tech. During my sophomore year, one of my professors introduced me to genetic counseling as a career choice. Prior to that, I had an interest in genetics because of a family history of sickle cell anemia. My love of science, more specifically genetics, and desire to health people, led to me pursuing a career in genetic counseling.
In order to become a genetic counselor, you need to have a master's degree in human genetics or genetic counseling and then become certified by the American Board of Genetic Counseling. We are trained in multiple subspecialties – oncology, pediatrics, prenatal, and other adult onset conditions.
What can a patient expect during a genetic counseling appointment? How should they prepare?
TL: During a genetic counseling visit at VOA, patients can expect to meet with a board-certified genetic counselor or advanced practice provider. Their medical and family history will be reviewed, risk assessment provided, as well as education on genetic testing, options, and potential screening and management. In order to prepare for an appointment, we ask patients to gather as much information about their family history as possible. The patient should document any cancer history in their first- and second-degree relatives – parents, siblings, children, grandparents, aunts, uncles, nieces, and nephews. They should document cancer type and age at diagnosis. Even if the patient can't get all the specific details, getting as much information as possible is helpful. For those who are adopted, documenting their own medical history, including any biopsies, polyp history, and cancer screening is helpful.
For patients who are adopted, we can still discuss the risks based on their own history. It's important that patients come prepared to discuss their personal and family history.
Can you give an example of how genetic testing has helped a patient?
TL: A young patient, in her twenties, was referred for genetic counseling/testing given a family history of ovarian cancer. The patient was seen, and genetic testing recommendations were made. Because her aunt was diagnosed with ovarian cancer, and she was available for testing, I recommended testing start with her. Our patient agreed to contact her aunt. She learned her aunt had in fact had testing years ago and was positive for a gene change associated with her cancer. I recommended testing our patient for the same gene change identified in her aunt. Her results were also positive. Our patient followed up with breast cancer screening based on her positive test result and was eventually diagnosed with breast cancer. Genetic testing allowed our patient to have breast cancer screening at a much earlier age than she would have had otherwise (breast cancer screening usually starts at age 40 for the general population). Breast cancer screening led to an early diagnosis at a stage that is hopefully curable.
Is there anything else you think patients should know about genetic testing?
TL: Genetic testing can serve as an additional tool to help individuals make informed decision about their health and cancer screening. However, I want to highlight the importance of meeting with a trained healthcare professional when considering genetic testing. Patients should speak with their physician about a referral. VOA is proud to offer genetic counseling by certified counselors and advance practice providers.
Does someone have to be a patient of VOA to see one of their genetic counselors?
TL: Anyone interested in genetic counseling at VOA will need to meet with one of our physicians prior to meeting with a genetic counselor or advanced practice provider. We have a physician who oversees the genetic program and he consults with these patients to establish them in our practice. The physician is also available to meet with patients once results are returned to ensure they are managed appropriately based on their personal/family history and genetic test results.