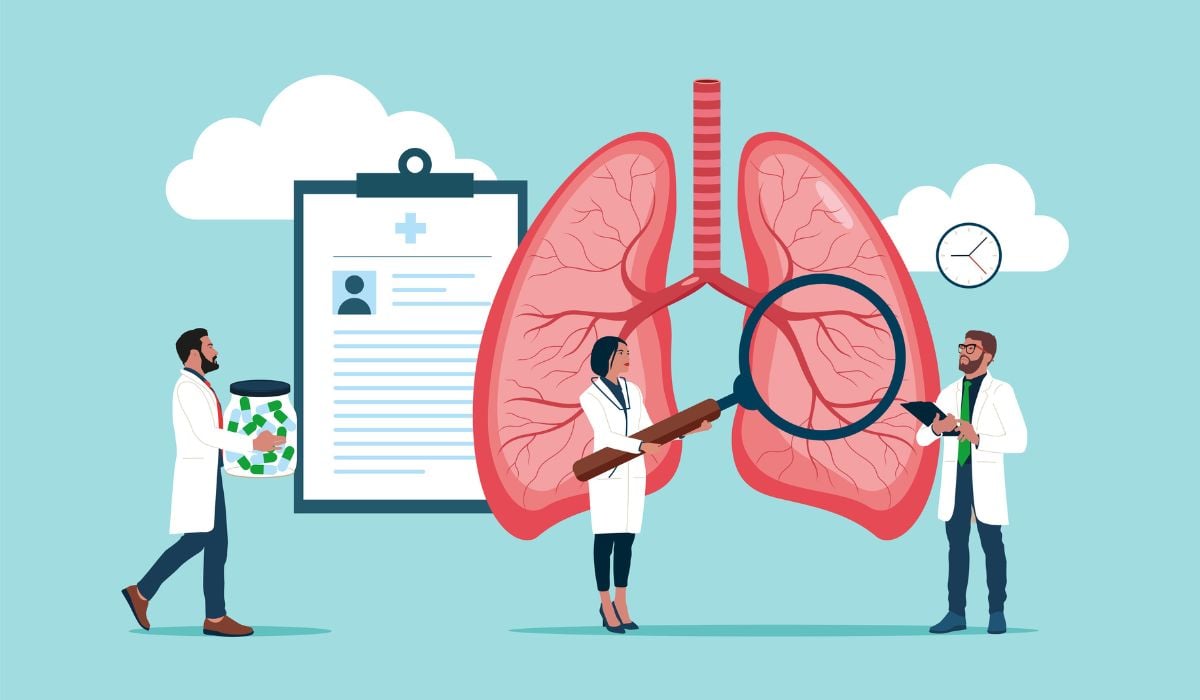 We know more about lung cancer than we did a few decades ago — and this knowledge has greatly changed how we approach treating it. Through our clinical trials program, our patients have participated in invaluable research giving cancer patients throughout Virginia and across the country better options for treating lung cancer. With new and improved treatment options becoming available all the time, lung cancer patients can have a more positive outlook when it comes to their diagnosis.
Watch this short video about advancements in lung cancer treatment.
Immunotherapy Treatments Help the Immune System Target Lung Cancer Cells
Immunotherapy continues to make huge strides in cancer treatment. Considered a type of biological therapy, immunotherapy uses drugs to boost your immune system to fight cancer. Now, more than ever, immunotherapy provides better outcomes for patients diagnosed with all types of lung cancer, including small cell and non-small cell lung cancer.
The drugs used in immunotherapy work by activating your immune system to seek out cancer cells that often hide from your body's natural defense system. They do this by targeting specific proteins on the surface of the cancer cells. Your doctor can run various tests to determine which type of protein is fueling the cancer's growth, then prescribe a corresponding immunotherapy drug.
Checkpoint Inhibitors for Lung Cancer
Cancer cells are often able to "hide" as healthy cells, going undiscovered. Checkpoint inhibitors stop cancer cells from doing this so your immune system can recognize them and allow the cancer treatments to work effectively against them. These drugs vary based on the type of protein identified on the surface of the cancer cells.
PD-1 Protein Inhibitors:
pembrolizumab (Keytruda®)
nivolumab (Opdivo®)
cemiplimab-rwlc (Libtayo®)
PD-L1 Protein Inhibitors:
durvalumab (Imfinzi®)
atezolizumab (Tecentriq®)
CTLA-4 Protein inhibitor
Monoclonal Antibodies for Non-Small Cell Lung Cancer
Monoclonal antibodies are man-made substances designed to mimic immune system proteins. They attach to antigens in cancer cells and restrict the growth of blood vessels, resulting in the death of the cancer cells. These drugs are primarily used for non-small cell lung cancer patients at this time:
bevacizumab (Avastin®)
ramucirumab (Cyramza®)
Not every non-small cell lung cancer patient will qualify for the use of these drugs. Your oncologist will talk with you about what's best for you.
How Immunotherapy is Used in Treating Lung Cancer & What to Expect
Immunotherapy drugs have proven effective when used alone or in combination with other lung cancer treatments like chemotherapy and radiation therapy.
Immunotherapy is usually better tolerated by patients than other types of treatments but still has side effects. Different types of immunotherapies can cause different side effects, dependent upon a variety of factors.
Deciding which patients are most likely to benefit from immunotherapies can be challenging. The lung cancer specialists at Virginia Oncology Associates can help you determine whether immunotherapy is right for you and what to expect while receiving this type of treatment.
Targeted Therapies Reach Non-Small Cell Lung Cancer (NSCLS) Cells While Avoiding Healthy Cells
Targeted therapies are another relatively new cancer treatment showing positive results, especially for non-small cell lung cancer. These drugs are designed to identify cancer cells and attack the genetic molecules, or proteins, that allow them to multiply and spread throughout the body. Because of this, targeted therapy is sometimes referred to as precision medicine.
NSCLC patients will be tested for biomarkers. This test indicates if there are any genetic abnormalities within the tumor enabling the growth of the proteins, which leads to the development of cancer cells. If the results come back showing a mutation, addition, deletion, or rearrangement in the DNA of the tumor, treatment may be available to target your specific subtype of lung cancer. The genetic changes they are looking for with biomarker testing are not typically inherited but rather changes that have occurred over the lifetime of the patient.
The precision of targeted therapy helps leave healthy, normal cells alone, often resulting in fewer side effects. This differs from traditional chemotherapy, which affects both cancer cells and healthy cells.
In recent years, many targeted therapies have become available for advanced non-small cell lung cancer, and more are in development. Currently, most targeted therapies are FDA approved for metastatic non-small cell lung cancer patients. This means the cancer has spread beyond the lungs to other areas of the body.
FDA-approved targeted therapies are currently available for non-small cell lung cancer tumors showing gene mutations in any of the following areas:
EGFR
ALK
ROS-1
NTRK
MET
RET
BRAF V600E
KRASG12 C
Targeted therapy can be used by itself or in combination with other treatments. While this isn't the usual first line of treatment for non-small cell lung cancer patients, it could be in the future.
When biomarker testing does not show a mutation in one of these genes, other treatments, such as chemotherapy and radiation, are available.
Clinical Trials Study New and Effective Ways to Treat Lung Cancer
Virginia Oncology Associates knows clinical trials are a big part of improving treatments against both small-cell lung cancer and non-small-cell lung cancer. Through clinical trial research, current treatments can be improved, and/or new treatments can become available for all types of cancer. In cases where clinical trials show a new treatment is better than the standard treatment, the new treatment may then become the new standard.
Participation in clinical trials, such as the MYLUNG clinical research trial, helps Virginia Oncology Associates contribute to the advancement of personalized lung cancer treatment for cancer patients here in Virginia and across the nation. We currently have several clinical trials open for patients at various stages of lung cancer. These can be found on our Available Cancer Research Trials page.
If one of our lung cancer doctors recommends a clinical trial as a treatment option, you have the choice to participate. While clinical trials are often only available in major hospital systems in large cities, you can find lung cancer clinical trials at select Virginia Oncology Associates locations throughout Hampton Roads. Offering the latest therapies locally allows patients to stay close to home, near their support system of family and friends.
The Latest on Lung Cancer Treatments & Clinical Trials at Virginia Oncology Associates
The lung cancer specialists at Virginia Oncology Associates are here to guide you through your lung cancer care. This includes creating a personalized treatment plan to treat your specific type of lung cancer. If you or a loved one has been newly diagnosed with lung cancer, find the most convenient Virginia Oncology Associates location and schedule an appointment. We are also available to provide second opinions on treatment recommendations.