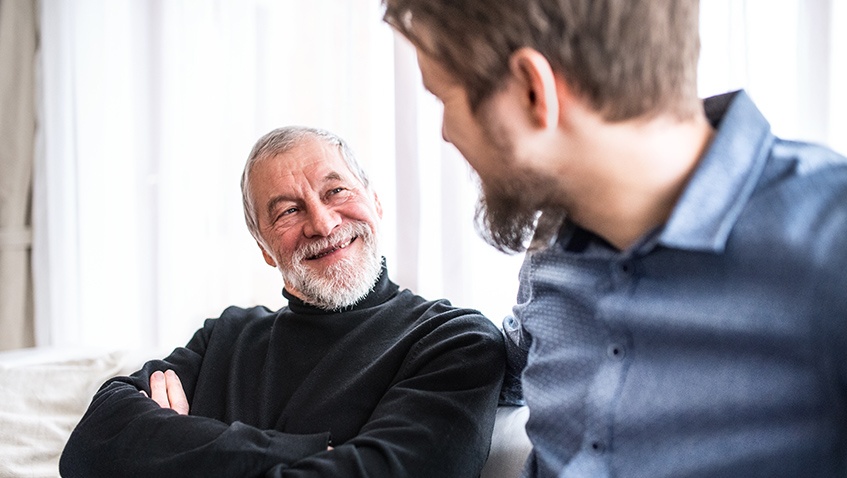 Having cancer is emotionally and physically draining. Looking back on your journey, you'll probably agree that the unwavering support of your cancer caregivers played a huge role in your recovery. Maybe you had friends and family members who seemed to instinctively know what you needed and stepped up to help without being asked? From giving you rides to and from your appointments, making you meals, doing your laundry, taking care of your yard, helping with your children and pets, and simply providing a shoulder to cry on or a listening ear, your cancer caregivers were an unofficial yet important part of your care team. Thanks to their help, you didn't have to "sweat the small stuff" and were able to focus on your recovery.
It's never too late to say "Thank you!" to the unsung heroes who helped you in your time of need. Now that you are a cancer survivor, you are independent and no longer as reliant on your caregivers. Being able to tangibly thank them will make them feel appreciated. And, becoming the "giver" rather than the "receiver" of gifts will probably feel very empowering to you!
1. Sign Them Up for A Meal Delivery Service
This is a wonderful way to thank caregivers who cooked for you in your home or delivered nutritious meals to you and your family. There are several popular meal delivery services out there, including Hello Fresh, Blue Apron, Green Chef, etc. When you sign your caregiver up for one, he or she will receive weekly, every other week, monthly kits, etc. delivered to their doorstep, that include ingredients and recipes to easily create healthy, restaurant-quality meals at home. There are many options available, including gluten-free, vegetarian, Paleo, and keto menus.
2. Pick Them Up for a Mani/Pedi Date
Especially if you're a female survivor looking to thank female caregivers, why not arrange to take your friend or loved one on a special outing? If they helped you through your cancer journey, they clearly care deeply for you. They'll love spending time with the healthy you. Not only do your caregivers deserve a bit of pampering, so do you!
3. Put Together a Personalized Gift Basket
Everyone loves to receive an unexpected gift. You could purchase a ready-made gift basket. That would be a nice gesture. Or, you could create a fun gift basket filled with items you pick out especially for your caregiver. You probably got to know your caregivers pretty well during the time you spent together when you were sick. Does the caregiver you want to thank have a favorite candy, wine, hobby, store, or snack? Do you have a nice photo of the two of you that you could frame? Are there small luxury items you could include (scented bubble bath, lotions, slippers, etc.?) Your gift basket does not necessarily need to include expensive gifts … just thoughtful gifts that you know they will appreciate.
4. Hire a Housekeeper
A housekeeper or house-cleaning service is a luxury that pretty much anyone would appreciate. Why not hire a reputable cleaning person or cleaning service to deep clean your caregiver's home? Now that you have completed cancer treatment, both you and your caregivers have turned a page on life and entered a new chapter. Why not help your caregiver breathe easier and celebrate this fresh beginning with a spotless house?
5. Gift them with A Splurge
Sometimes, the most selfless people are happy to spend money on others but reluctant to spend it on themselves. Consider surprising your caregivers with a gift certificate to a nice restaurant, a gift card to their favorite store, a high-end bottle of their favorite wine, tickets to an upcoming concert or sporting event, a luxurious floral arrangement, etc.
The friends and loved ones who stood by your side during cancer did it because they care about you. You've already given them the gift they really wanted – you beat cancer! Any gesture beyond that is icing on the cake, but it will definitely be appreciated. Whether you spend money thanking them or simply write them a heartfelt note, thanking your caregivers will make them feel good. It will make you feel good, too!